We recognize that all of our patients are unique and deserve to receive dental care that reflects their individual needs. Our experienced and talented dental team is committed to working with you and your family to create a comfortable, stress-free, and rewarding dental experience every time you visit our practice. We are pleased to welcome you and your family, and we look forward to working with you.
Kathy Mueller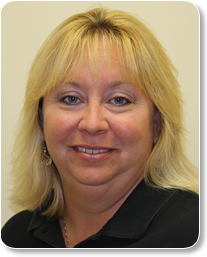 Welcome! I am a dental hygienist and have been with this practice for more than 18 years! The doctors here are all fun and easy to work with, and they truly care about our patients. My favorite part of my job is when a patient tells me that their mouth feels great at the end of a visit! I have been married for 24 years and have two children. My son is 18 years old, and my daughter is 15. We also have lots of pets, including dogs, cats, rabbits, horses, and chickens!
Lora Meyer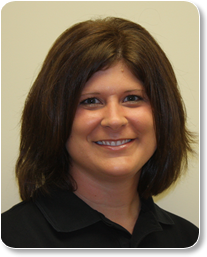 I'm a dental hygienist, and I have been with the practice for 16 years. I enjoy getting to know our patients and interact with them with a calming nature and a gentle hand. I love working with people and helping them live healthier lives. In my spare time, I enjoy outdoor activities such as boating and motorcycle riding! I'm also a huge sports fan and especially love the St. Louis Cardinals! Most of all, I enjoy spending time with family and friends.
Diana Henry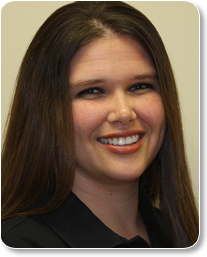 Welcome! I am a full-time dental hygienist, and have been with the practice since January of 2006. My job is to welcome patients into the practice and to see them through treatment in preventative care, whether it is getting patients back on track or maintaining oral health. I graduated from Kaskaskia College in 2003 with an Associate Degree in Arts and a dental assisting certificate, then from Lake Land College in 2005 with an Associate Degree in Science. At home, I am married and have two young sons.
Alicia Keller
I am a dental assistant with ten years of experience in our practice. I graduated from Missouri College in 2004 with academic honors, and am now a chairside assistant with expanded duties in sealants and coronal polishing. I also cover a variety of administrative duties. My favorite part of my job is when our patients turn to the doctor and me, and tell us how grateful they are for our gentle treatment! When I'm not at work, I spend time with my family and our dog, Baby!
Brenda Stiffler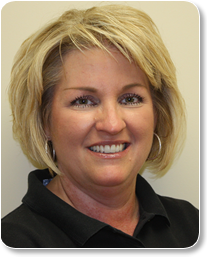 I have been an assistant with the practice for 31 years! I attended the Missouri School for doctors' assistants in 1983 and have worked here ever since. I am a chairside assistant with expanded duties in sealants and coronal polishing. I am also in charge of ordering the office supplies and have a variety of administrative duties. My family includes my husband, Bruce, our dog, Pete, and my best friend and mother, Betty!
Kris Green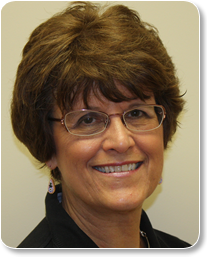 I have worked as the front desk receptionist with our practice for 12 years! I love to greet our patients with a smile as they arrive, and thank them after they have been seen. I always try to make each patient feel comfortable and at home while they are in our office. I also verify insurance benefits for our patients, and make sure they receive the most from their coverage. My family consists of my loving husband, our four children and seven beautiful grandchildren! I also can't forget our black lab, Abbey!
Cynthia Slaydon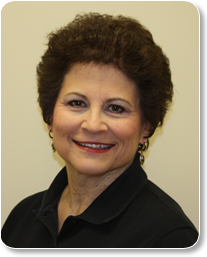 As the office manager, I'm in charge of financial arrangements and dealing with dental insurance. My goal is to enable the office to run as smooth as possible. The attention to detail and care that our doctors give to our patients is superior, and their genuine nature makes this office stand out. Patients can sense the friendly atmosphere of our office and the excellent customer service in every aspect of our business. At home, I am married with two grown children and three grandchildren.
Aisel Alcedo-Smiley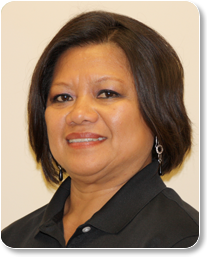 I graduated from Bryman School of Medical and Dental Assisting in Chicago. After working as a chairside assistant for ten years and in various front office capacities for about 12 years, I joined Dr. Rottschalk's team. It is my goal to make sure our patients are at ease and comfortable from the moment they first step into our office to the moment they leave. I love interacting with all our interesting patients as I set up their appointments and review their insurance benefits. Our team has been together for a long time; everyone is easy to get along with and it makes our office feel like one big family! My time outside the office is spent with my husband of 26 years, Wayne, and our two sons, Marcus and Dominic.
Ranae Hellman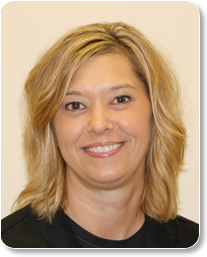 I started my career as a dental assistant in 1999. After I realized how much I loved the patient interaction, I decided to further my education and became a dental hygienist. My days are full of meeting new people and helping them become healthier by improving their oral health and hygiene. I love working here because everyone works together as a team. We have a caring, considerate, professional, and fun environment. We all have the same goal: to make our patients comfortable, happy, and healthy! I love spending time with family and friends. My husband Shane and I have a boxer puppy named Haze, as well as three nieces and three nephews. My hobbies include boating and reading, and I am active at Carlyle Christian Church by volunteering in the nursery.